RTP for Biggest Online Slots Jackpot Games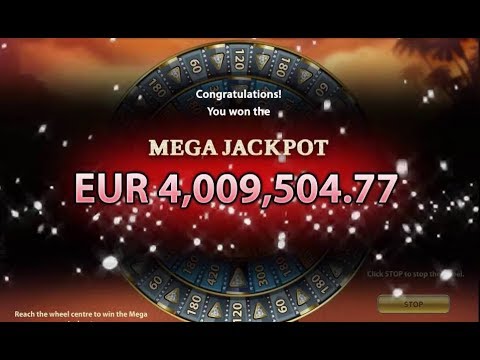 Most people who play online slots with big jackpots do so because they want to win a life-changing payout. They're not, however, as concerned with the payback.
Nevertheless, it's still good to play slots with a high return to player (RTP) whenever you get the chance. If you've ever wondered how much the biggest online jackpot slots pay back, then keep reading as we discuss RTP for these games.
We're also going to cover how payback is determined for progressive jackpot slots and if it's possible to beat these games when the jackpot rises.
How Is RTP Determined for Jackpot Slots?
As you may know, the online slots world features different types of jackpots. The biggest division comes between progressive and fixed prizes.
A progressive online slot sees the jackpot increase by a small amount with every wager. The amount of each bet that goes to the jackpot varies based on the game.
But many of the biggest progressive slots jackpots see 2% of each wager go towards seeding the top prize. This means that if you bet €1.00 per spin, €0.02 of this goes towards the jackpot. The jackpot will grow as more people play the game.
A fixed jackpot, on the other hand, doesn't increase based on the number of bets. Instead, the software provider sets a static amount, like 5,000 coins, for example.
Fixed and progressive jackpot slots provide many of the same thrills. But some players prefer progressive slots, especially popular ones that offer huge top prizes.
One thing that makes progressive slots tough to play is that you don't know the payback. The reason why is because this constantly changes as the jackpot increases in size.
The only thing that's certain is the starting amount, or base payback. Many slots makers freely share the base RTP of a jackpot slot. This means that you'll at least have a starting reference for where payback begins. You can then estimate how much RTP is worth as the jackpot grows.
Of course, this isn't an exact science when trying to figure out progressive slots RTP. But you can at least be confident that payback is higher when the jackpot has grown to a large amount.
Payback for the Biggest Online Jackpot Slots
Arabian Nights (NetEnt) Base RTP = 95.2%
Arabian Nights is a simple game about an ancient Middle Eastern town. And this simple theme has attracted many players. Case in point, this game once paid out a jackpot worth €8,635,872. Arabian Nights also offers very good payback for such a big jackpot game.
Beach Life (Playtech) Base RTP = 93.25%
Beach Life has not only paid an $8.2 million jackpot, but also the first million-dollar mobile slots jackpot. This beach-themed slot has below-average payback in comparison to other progressive jackpot games.
Hall of Gods (NetEnt) Base RTP = 95.5%
Hall of Gods has consistently paid multimillion-euro jackpots over the years, including a €7,820,888 prize in 2015. This NetEnt game delivers its jackpot through a unique bonus round, where you smash mirrors with Thor's Hammer. Hall of Gods also offers excellent base payback for a big jackpot slot.
Jackpot Giant (Playtech) Base RTP = 94.22%
Jackpot Giant has average payback when compared to the other slots on this list. This game's theme lives up to the jackpot size, because Jackpot Giant is currently offering a top payout worth €10 million.
Mega Fortune (NetEnt) Base RTP = 96.6%
Mega Fortune has paid a €17,860,868 jackpot before, which is the second largest ever for an online slot. This game awards the jackpot through a unique bonus round, where you try to move to the inner layer of a concentric circle.
Mega Moolah (Microgaming) Base RTP = 88%
Mega Moolah is famous for paying the biggest online slots jackpot in history. British soldier Jon Heywood won a €17,879,645 prize on Mega Moolah in 2015. Obviously this Microgaming slot is great due to the huge jackpots. But the base payback certainly isn't good.
Millionaire Genie (Random Logic/888) Base RTP = 95.02%
Millionaire Genie is the fourth game on this list with over 95% RTP. That makes Millionaire Genie worth playing if you're looking for a big jackpot along with solid payback. The largest win ever on this game is $5.2 million.
Can You Beat Online Jackpot Slots?
You can see above that some online jackpot slots have good RTP while others are less generous. That said, the first step towards beating a progressive jackpot slot is choosing one with good base payback. Here you have a list with all online jackpot slots
Another way is to learn the break-even value of a jackpot game. Break-even value refers to the exact jackpot size where you're no longer at a long-term disadvantage.
Here's an example:
A jackpot slot offers base payback of 94%.
The starting jackpot is seeded at €100,000.
Payback becomes exactly 100% when the jackpot reaches €350,000.
This slot offers positive expected value (+EV) when the jackpot is anywhere above €350k.
Keep in mind that this concept is only theoretical. Unless, you win the progressive jackpot, then you're playing a slot with 94% RTP in the example. But it's still nice to play a game that theoretically puts you on equal footing with the house.
The reason why online casinos are willing to offer jackpots slots that eventually reach 100% payback is because they're not covering in the entire value.
Software providers merely seed the initial jackpot – players provide the rest. Meanwhile, the software companies share profits generated by players' bets with online casinos that host their jackpot slot.
While the software provider might front an initial €500,000 jackpot, they expect the prize to grow much larger and generate revenue for themselves. Given that players are the ones driving the RTP, casinos don't mind when these games offer break-even value or even +EV.
The only problem with all this is that the break-even value for many online progressive slots is unknown. This is true of all the progressive slots that we covered above.
This leaves you needing to make an educated guess on when to start playing a slots game to gain maximum EV. Generally, a 5x to 15x increase from the starting amount will offer you good value.
And again, it's also wise to play progressive slots that offer high base payback. This helps you earn frequent wins while chasing the jackpot and better sustain your bankroll. And having more bets means that you have a stronger chance of winning a large jackpot someday!
« BACK