How to Play Online Casino Slots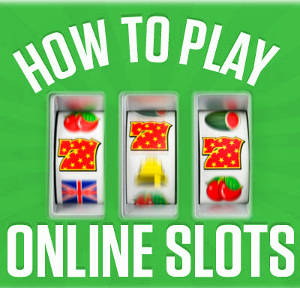 Many people enjoy real money online slots because they offer entertaining features and large jackpots. But there are a few important steps that you must take before playing these games for real money.
Specifically, you must find an internet casino, review the banking options, scout available games, and understand the betting options.
That said, let's look at everything you need to know regarding how to play real money internet slots.
Find a Quality Online Casino that Accepts Players from Your Country
Online casinos usually restrict certain countries and territories from playing at their sites.
The main reason why is because they don't hold internet gaming licenses in every country or jurisdiction. And operating in such jurisdictions would result in legal action.
This means that you'll not only need to find a real money casino that you like, but also one that accepts you as a real money player. Here's a closer look at finding internet casinos and seeing if you'll be accepted.
Quick Tips on Finding an Online Casino
Reviews are a great way to find good internet casinos because they offer info on a casino's welcome bonus, games, loyalty program, banking options, reputation, and customer service.
One easy way to find reviews is by looking on Google or Bing. Another way to find casinos to play at is to look right here at CasinoSlotsGuru or FreePlayCasinos.net. We list casinos under each slot so you can easily find where to play your favourite casino slots for real money.
Some players are from countries where online gaming is a legal grey area, such as Canada or the United States. In these cases, you'll need to search reviews for casinos that are specifically available to your country.
Once you find a casino(s) that you like, visit them directly to see how they rate in terms of game selection, bonuses, promotions, and more.
How to Find Out if Your Country is Accepted for Real Money Play
Many times reviews cover what countries are restricted from playing at a casino. This is ideal because the reviewer has already researched which countries/territories are restricted from a specific casino.
If you don't find this information through a review, then visit the casino directly and look at their terms & conditions section.
This normally constitutes a lengthy section filled with the casinos' terms. But if you wade through all this info, you'll also find a section that lists restricted countries and territories. As long as you don't see your country listed, then you'll be able to play for real money.
Some casinos offer a warning on their homepage that players from your country/territory aren't accepted. This is nice because you don't have to spend time looking through the terms and conditions page.
Check Available Deposit & Withdrawal Options

Once you find a quality online casino that accepts your country, the next step is to see if you can make a deposit there.
You must visit a casino's banking section to do this. Here you'll find what deposit and withdrawal options are available. You'll also find one or more of the following pieces of information:
Deposit & withdrawal fees
Transfer time
Minimum deposit & withdrawal amount
Maximum deposit & withdrawal amount
How to gain approval for cashouts (i.e. forms of ID, utility bills)
The main goal when looking at the cashier page is to make sure that the casino has a deposit method you can use. But it's also important to look at the other factors to ensure that you're getting a good deal.
The last thing you want to do is pay outrageous fees to cash out money and wait forever to complete withdrawals.
Withdrawal Methods are Important Too
While you're checking deposit options, don't forget to ensure that the casino offers withdrawal options you can use too.
The ideal scenario is that you'll find a banking method which can be used for both depositing and withdrawing money.
Bitcoin, Neteller, and Skrill are popular examples because they can be used to make deposits and cashouts at internet casinos.
Create an Account and Make a Deposit
If everything checks out in the banking section, then you're ready to create an account and start playing. Here's some advice on how to make your account and place your first deposit.
How to Create Your Account
The good thing about making your online casino account is that you won't have to search hard for the signup area. Most internet casinos feature multiple prompts on their homepage urging players to sign up and make a deposit.
Upon choosing one of these prompts, you'll be taken to a page that asks you to fill in various details about yourself. Here are examples of the details that you'll be asked to provide:
First name
Last name
Email address
Home Address
State & country/territory
Username
Password
Mobile phone
Who referred you
The last step after filling in account details involves agreeing to the terms and conditions. Once this is done, you'll be ready to play free slots.
Making Your First Deposit
Earlier we covered how you should look over the deposit and cashout methods to make sure that you're eligible for real money slots play. If you are eligible, then you can make a deposit and start betting real money.
The first order of business is to visit the banking area again. You should find a prompt that asks you to make a deposit right away. Here are the steps that you'll take after choosing this prompt:
Sign into your account if you're not already logged in.
Choose your deposit method.
Enter your deposit amount.
Enter a deposit bonus code if you have one.
Finalize the deposit through your chosen payment method.
Keep in mind that these steps will differ slightly based on the casino. But this is roughly the process that you'll go through at every internet casino when depositing.
Verifying Your Identity for Withdrawals
One of the most frustrating aspects of real money slots play can be the withdrawal process. This isn't to say that you'll experience problems at every internet casino. But some places make it tough to get your money when the time comes.
You normally have to verify your identity before making your first cashout. The reason why is because online casinos want to ensure that it's indeed you and not somebody else trying to get your money.
Verifying your identity usually consists of sending scanned copies of your driver's license or ID, and 1-2 utility bills. The painful part is when a casino claims that the copies aren't scanned cleanly enough or aren't totally visible.
Remember that this isn't usually the case. But just be aware that you may have difficulty at some casinos when making your first cashout.
Make Sure Your Slots Betting Options are Correct when Playing
Once you have funds on an internet casino, you're ready to play slots for real money!
But the first thing you should do before making a single spin is check the betting options and make sure that they're exactly where you want them. The reason why is because you want to avoid betting more money than you bargained for while playing.
Here are some of the slots betting options and what they do:
Pay lines – Allows you to choose how many lines you want to play with each spin. In some games, pay lines are fixed at the maximum amount.
Coin Size – Determines the size of your coin denomination. This normally ranges between $0.01 and $5.00 with online slots.
Coins per line – Allows you to put multiple coins on each pay line. Also called "bet level," this option ranges from 1-5 or 1-10.
Autoplay – Lets you spin the reels automatically with your selected betting options. Most games have settings that let you stop autoplay, including after a certain number of spins or money won/lost.
Gamble feature – This option lets you gamble your winnings in a mini game. Oftentimes this game involves guessing the color of a face-down card.

Benefits of Real Money Online Slots
Given that you can easily find online slots at a number of websites, you may be wondering what the advantages are to playing for real money. That said, let's look at a few reasons to consider trying real money slots online:
Win Money – The house has an edge in online slots. But that doesn't mean you can't get lucky and win some money.
Jackpots – You'll need to bet real money if you hope to win a big progressive jackpot.
Bonus payouts – Most slots games offer bonus rounds that give you a chance to pick up extra payouts. But you won't earn any actual money from them unless you're playing for real money.
More thrills – Online slots are a more-entertaining experience when you add real money to the equation.
Try Games Out with Free Slots
We've covered a lot on real money internet slots in this guide. But keep in mind that you can also play free slots at online casinos too.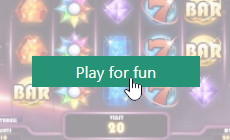 This is a perfect way to test out games before you make real bets with them. Furthermore, you can find out what slots you like before risking any money.
Many casinos require you to create an account before playing free slots. But you'll also find online casinos that let you play immediately through the Flash program without an account.
Please note that you'll almost always have to make an account before playing free mobile slots.
Conclusion on Playing Real Money Slots
Some slots players may think that real money gaming is an intimidating process. But the truth is that you shouldn't have much trouble when getting started.
The first task involves finding a quality casino that accepts your country/territory. Once you accomplish this, other steps include checking available banking methods, creating an account, and making a deposit.
As for playing real money slots online, we encourage you to check your betting options whenever starting a new game. This is an important step with regard to betting exactly how much you want and maintaining your bankroll.
Luckily, it doesn't take long to figure out slots games. And this means that you can concentrate on enjoying yourself while chasing jackpots and bonus prizes.
« BACK